Mohammed, I am your father: Shitty Guide visits the Muslim Expo
Shitty Guide loves all people and colours so when we heard our Muslim friends were doing an expo we decided to go there. No just kidding, actually we thought it was the SciFi convention but we mixed up the dates but we still love all people though.
Outside of the convention some people were protesting the sci-fi convention for some reason. They called themselves 'PEGIDA' and looked like they came straight from the bar 'Leeuw van Vlaanderen'. Science-fiction is not for everybody, it looks like they were more into Medieval Flemish Peasant Drama Series (or movies of Jan Verheyen).
Inside we were like 'What series is this bearded guy in?' Also lots of women were dressed up like darth vader. So then we realised this isn't the really SciFi Convention but still close enough. Apparently all the people are like superfans of the same book called 'The Quran'. They had lots of merchandise. This dude Mohammed definitely was the shit back in his days. As one passionate fanboy told us, "He didn't have Instagram, Facebook or Twitter but still he has 1,5 billion followers!" Eat that, Luke Skywalker! The whole story seems like a middle eastern version of star wars. In the end, all religions are basically middle eastern versions of Star Wars.
You have our main man Mohammed battling the evil forces of Satan (Darth Vader, obviously). It all ends well for everybody (except for gays and infidels maybe). But still there was not really a negative vibe, the atmosphere was definitely relaxed. Even if you're not a fanboy, people are nice.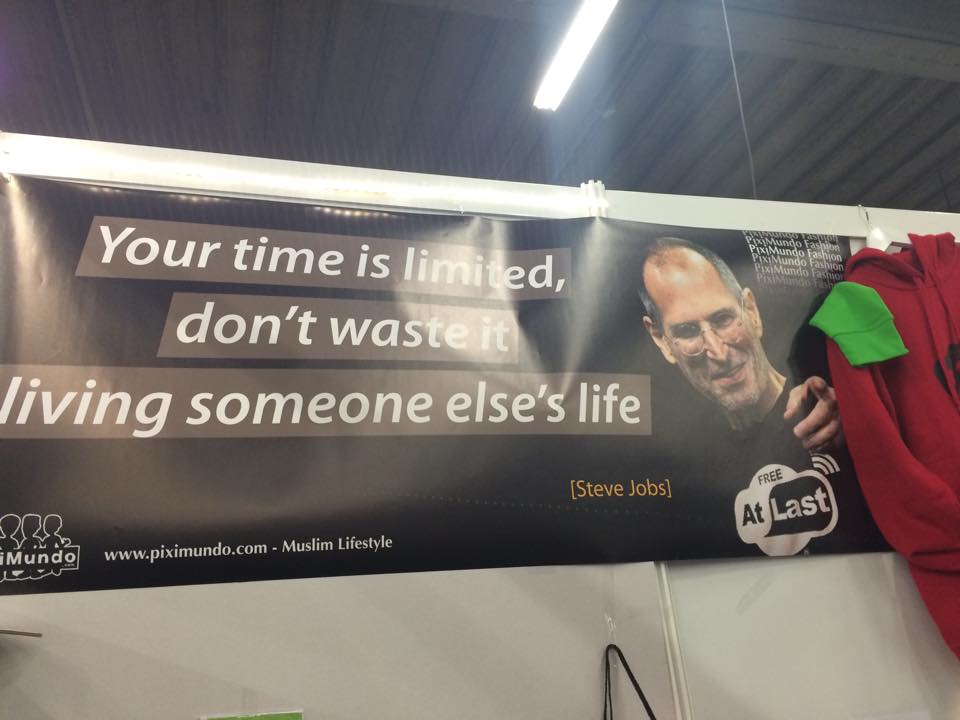 Muslim lifestyle fashion, even Steve Jobs is a fanboy!
The shitty guide was even interviewed by a bunch of young cool fellows who have their own media muslim company! The first interview they forgot to put the microphone on but that's no problem because we were bullshitting as usual. Worst. Interview. Ever. Soon to be seen on a muslim youtube channel near you.
There were a lot of different stands with all sorts of info on all things being muslim. They basically have everything we have, but then the muslim version of it. Which is fine, we guess.
We wanted to attend a workshop on 'sexuality in Islam: a taboo?'. We were not sure if we were allowed to enter but a nice muslim young man assured us: "Islam knows no shame. Alee you don't need to exaggerate either hé". In the end we didn't attend because the workshop was postponed and we were still hungover and we wanted to drink pintjes. The muslim sexuality will do just fine without us.
We decided this middle-eastern version of Star Wars is not for us. We have our own Quran, it is called the Shitty Guide. We also have religious festivities: it's called the Shitty Party and the next edition is on 29th of may. The moment we will sacrifice our dignity and maybe our virginity.
We decided to leave our muslim friends be and go have some pintjes in De Stad Aalst op the Carnotstreet. Santé.