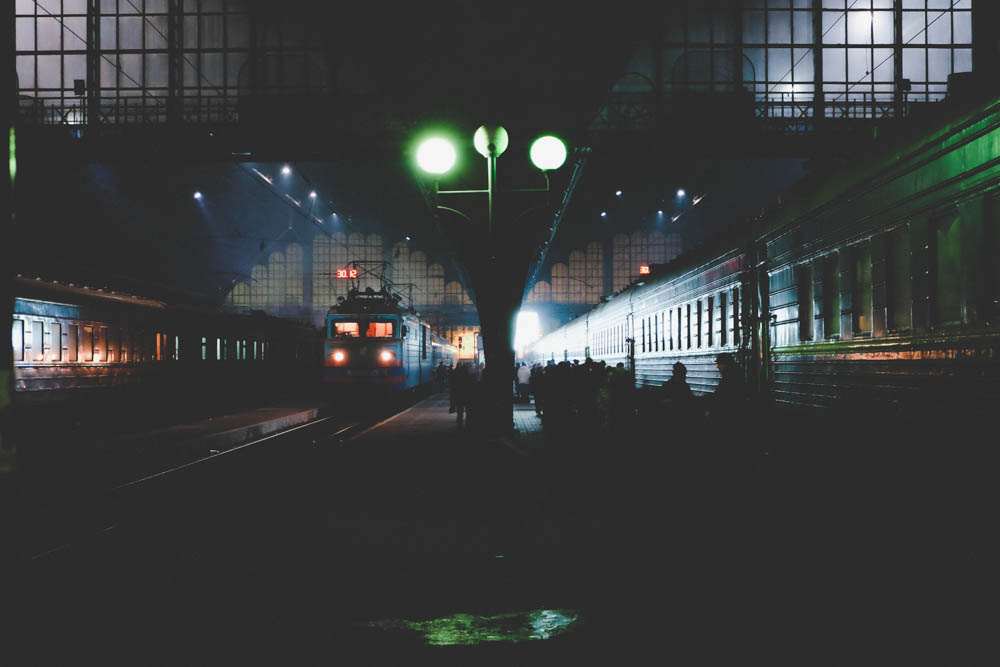 A snowy dark landscape was passing by while we were sitting on a train from Kiev to Lviv in the middle of the night. Packed like sardines in a small coupe were 7 people: one Ukrainian soldier, one Ukrainian girl and 5 Belgians. The traincoupé felt like a sauna but the door had to stay closed 'cause the ticket inspector kept pacing up and down the alley.
After some time we (i.e: the 5 Belgians) convinced the Ukrainian girl to open the bottle of vodka she had with her which she bought as a present for a friend. Once the wodka was flowing the conversation went from bad Belgian jokes to discussions about the Maidan revolution. It didn't take long before the bottle was empty and in the end we were all singing (or rather: shouting) the Ukrainian anthem. We didn't make good friends with the ticket inspector but in Ukraine vodka always takes the upper hand. Slava Ukraini. Heroyam slava!
So we were in Antwerp discussing where we wanted to spend our NYE abroad. Perhaps Berlin? Or Warschau? But maybe it was time for something radically different. 'What about Kiev?' said someone. A few things immediately came to mind:
The Maidan revolution, which ended up in a war against pro-Russian separatists in the east of the country. Which resulted in a severe economic crisis and a divided country. .
The Chernobyl disaster in '86.
A lot of desperate European men go buy themselves a Ukrainian bride over there. (Google Kiev Nightlife and you know why)
Sooo… sounds like our perfect holiday, right?
We booked our tickets and 2 months later we were sitting on a plane heading for Kiev.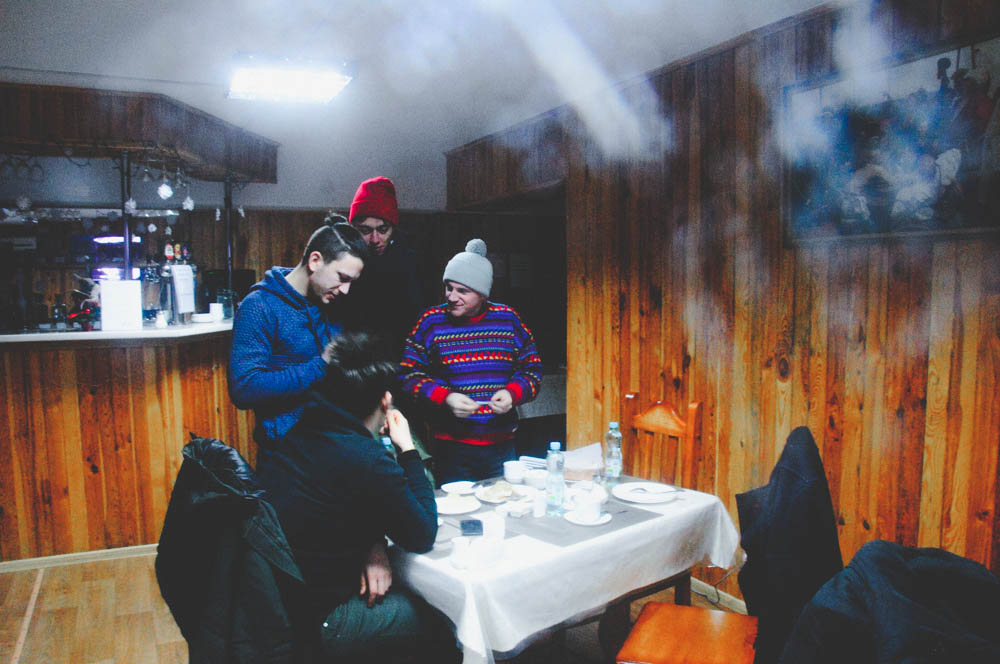 Checkin' out our tindergame in Chernobyl. Read more about our trip to the Chernobyl Exclusion Zone here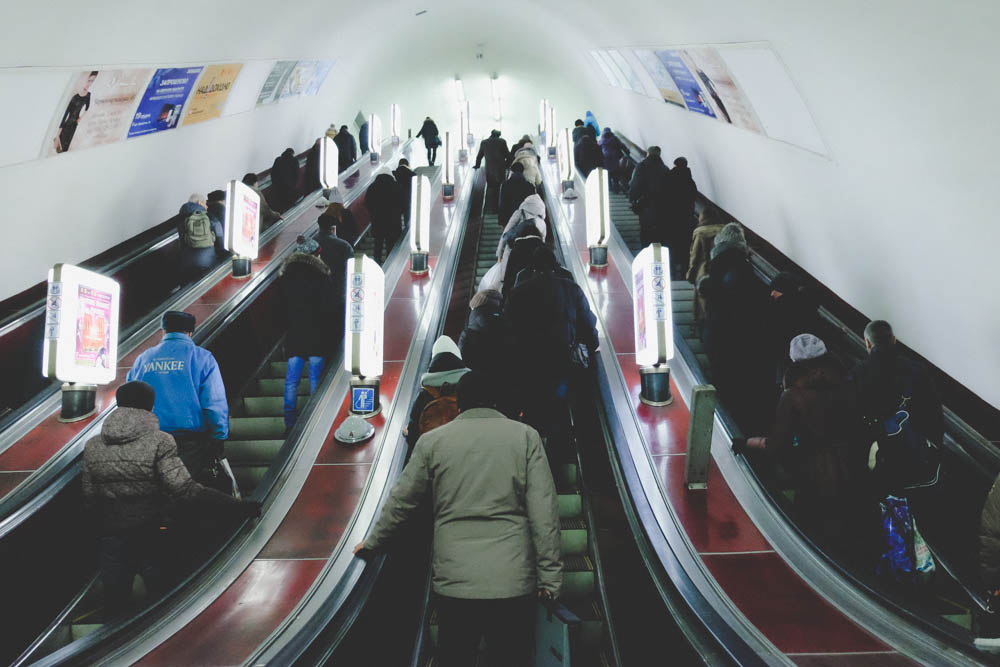 The Kiev Underground
When we asked some Belgians who've been to Ukraine, if they knew some shitty places they all just told us: 'Don't worry it's everywhere!'. And they were right! So If you're going, prepare yourself for an overdose of kitsch. It is literally everywhere. Yup, we loved it! Especially in the underground, mini shops all over the place stuffed with socks, hats, clothes and future shitty souvenirs for your loved ones. One of our favorites: toilet paper with Putin's face on it. Who doesn't want to wipe his dirty ass with Putin's face? Putin's probably the second most hated man in Ukraine. After Yanukovich on number one, their ex-president.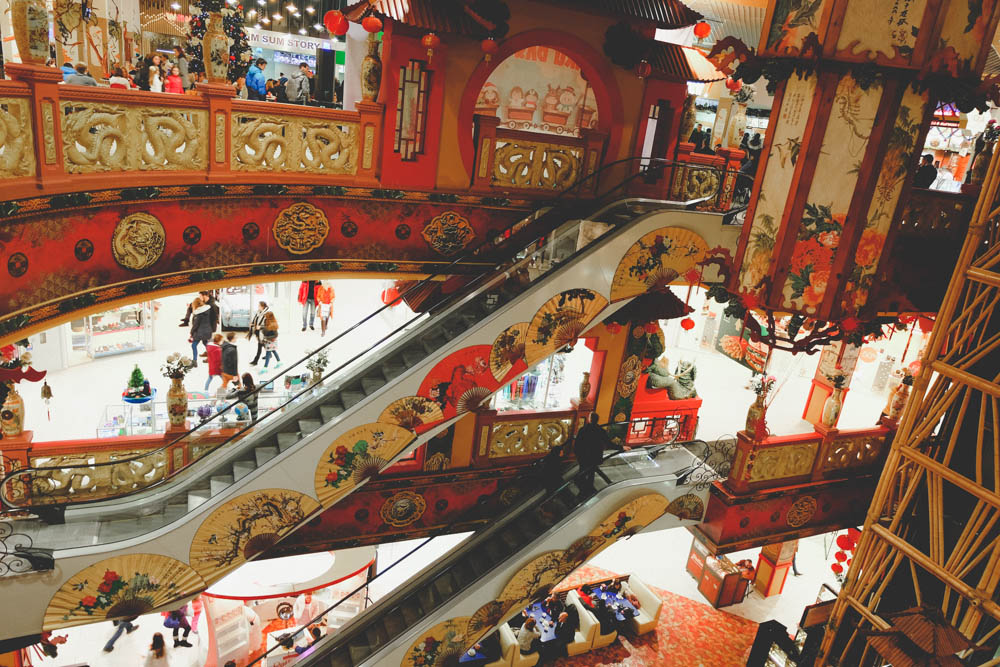 Talking about kitsch, there are shopping malls everywhere! Read more about our time at Dreamtown here.
At the end of 2013 a wave of protest started at the Maidan Square after president Yanukovich refused to sign a pro-European treaty. What started as peaceful protests pretty soon became violent clashes between riot police and protesters. Yanukovich eventually fled to Russia, because he's BFF with Putin, and an interim government was formed. Russia didn't want to recognise this new government. As a response Russia invaded and annexed the Crimea which eventually sparked a civil war between pro-Russian Ukrainian separatists and (anti-Russian) Ukraine in the East of the country. TL;DR: shit escalated quickly, and badly.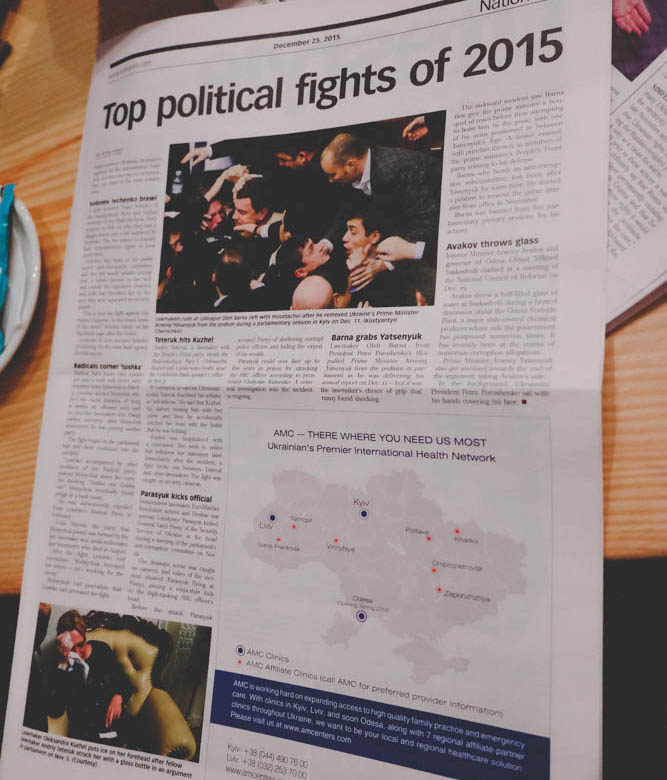 A brief intro to Ukrainain politics. Best list of the year by far.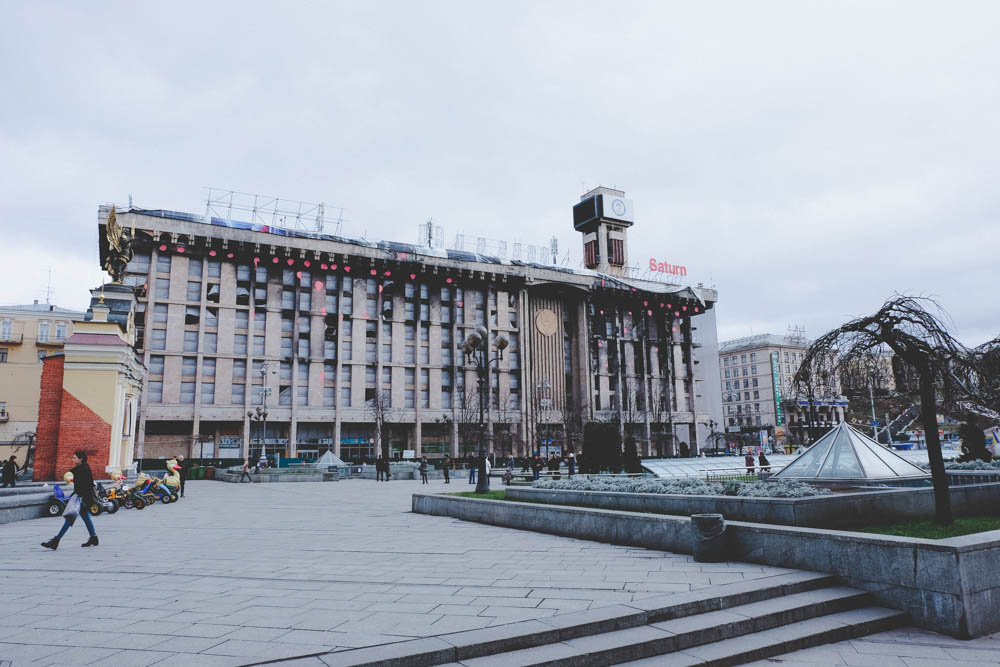 The destroyed hospital at the Maidan Square after the revolution
In Kiev there's no war going on but you'll see a lot of people walking around in their uniforms and military propaganda posters are everywhere. But in general as a tourist you won't notice that much of the crisis and the war. The city is bustling and daily life goes on. Everybody wants to move on and make the best out of it.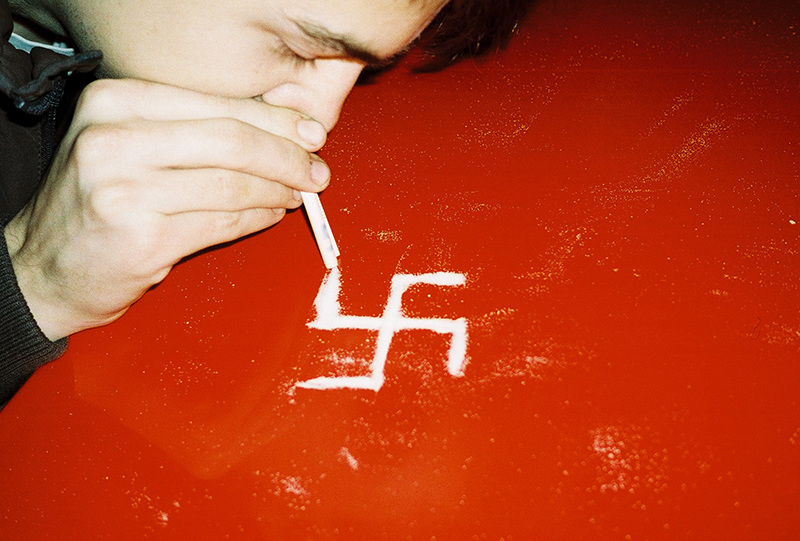 This is not picture of one of us! Never done a Nazi partyline before. It's a photo by our friendly guide Sasha Kurmaz. Def. check out his work. Good shit.
In Kiev we met Sasha, he's a street- and performance artist we've met through Tinder. He told us how the country is changing little by little. There's a new pro-European government and they are trying to tackle corruption on a low level. But the state in its core stays corrupted. After 15 years of rule of Yanuckovich, their ex-president, corruption is deeply rooted in the Ukrainian bureaucracy. When we brought a visit to Yanuckovich's 5000m2 terrain with a villa full of marble, a private zoo with emoes, a garage full of Rolls Royces we almost couldn't believe all this was bought just with the tax payers money. It will take years to win the fight against corruption, but most young people stay optimistic and believe in a better future for Ukraine.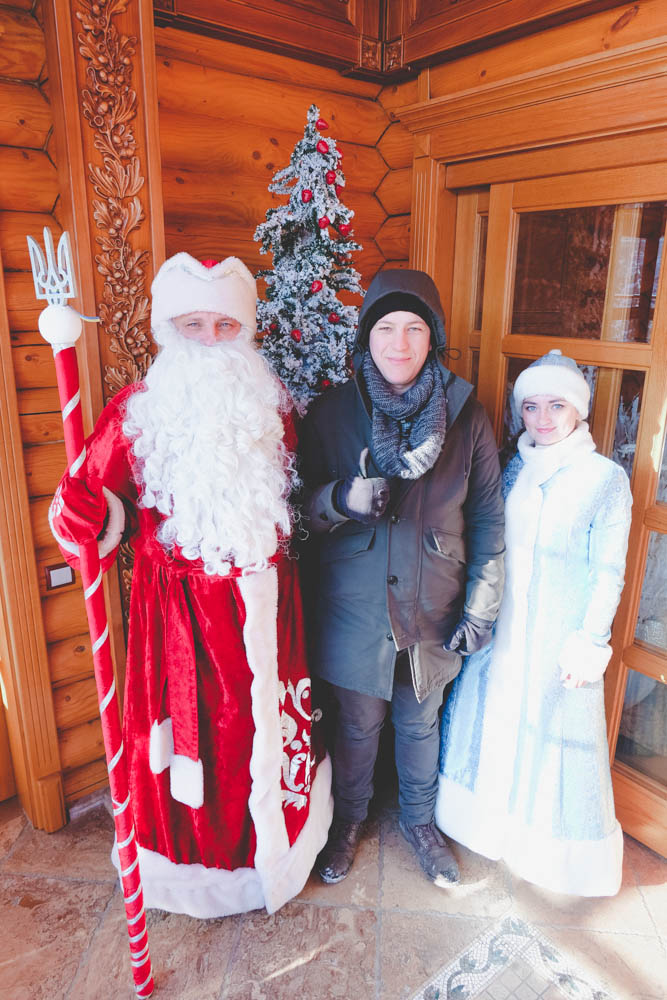 Santa and Miss Santa at Yannukovich's mansion built with Ukrainian tax money, 30km outside Kiev. Read more about our visit here
It was interesting meeting Sasha, since most (older) people's knowledge of the English language is non-existent and he actually wanted to talk to us. And if people have the slightest notion of the English language in Ukraine it is usually the word 'No'. "Where can we buy a ticket for the bus to Kiev?", I asked at the airport information desk. 'No'. End of conversation. Or if you're lost somewhere in the city and ask for directions: 'No'. End of conversation. 'Can I change my Hrivnas (the Ukrainian currency) to Euros?' asking a bank clerk: 'No'. End of conversation.
After watching a full episode of Friends on Ukrainian TV it became clear why English is 'a problem'. You could compare it to watching a bad teleshopping commercial where you still hear a bit of English through the dub. And even better, or worse, there was one voice-over for all women and one voice-over for all men. Imagine Putin and his wife reading Friends' jokes out loud. Monotone as hell.
Prepare to feel lost in Ukraine. Everything is written down in Cyrillic. It's definitely one of the hardest countries to get around we've ever travelled. But it definitely adds up to the adventure!

Star Wars written in Cyrllic
On the other hand you can also meet some very helpful and warm people. Especially the young people, if they speak some English. Prepare yourself for some wodka binging! One night we got lost in a 'ghetto' in Lviv and ended up in a bar with some locals. Before even entering the place, our wodka shots where already served. We made friends with two students and a Russian gangster. We were even invited to come shoot with Kalashnikov at the gangster's place, which we wisely rejected since we were way too drunk to even hold a gun. The two students had a better idea and we went playing basketball at their university campus with a roll of toilet paper. It felt like we were friends since childhood. The alcohol did the job there for sure but still… language doesn't always have to barrier.
During the night train to Kiev we met an old Ukrainian couple who only knew like two words of English. With pen and paper we told each others stories and had some laughs. It just takes some time and effort to hit the right spot.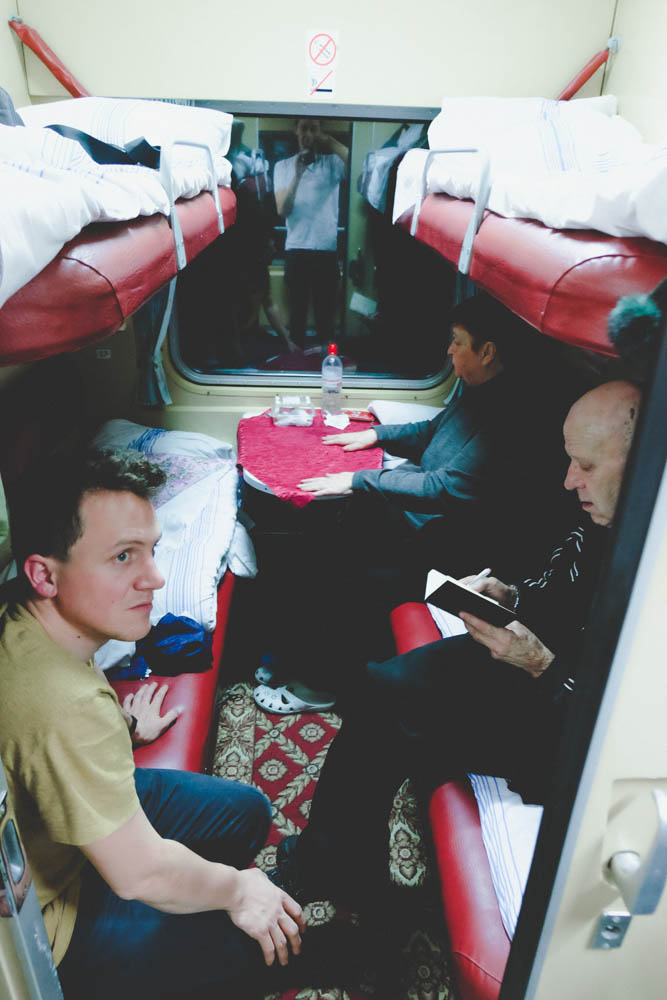 Freddy and our lovely Ukrainian neighbours on the night train to Lviv
It's all or nothing in Ukraine. People want to drink with you till dawn or you just get a plain 'no'. The wodka bottle is empty or it stays full. In winter it can get minus 20 degrees or in summer you can go the beach in your swimming pants.
We were in Ukraine at its coldest. Minus 21 degrees and a bit of snow. In Belgium it would be equivalent to just a total rampage and a shutdown of all public facilities. For Ukrainian standards this was an average winter. There wasn't even 50cm of snow this year. We were lucky according the locals.
Still everyone was walking around in their fur coats and wore the typical fur caps.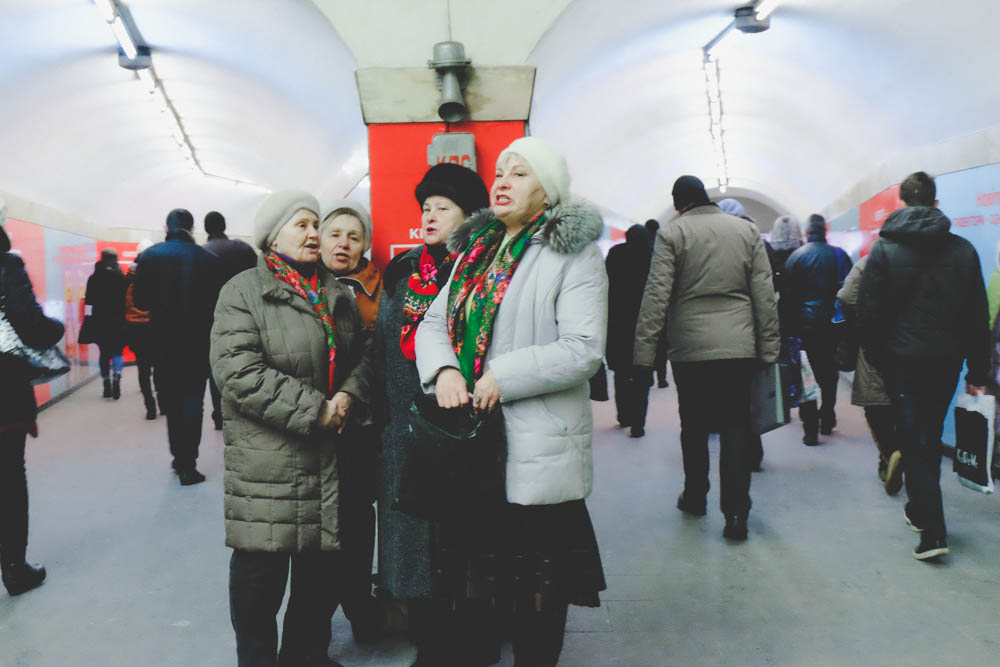 Ukrainian singers in the underground
The food in general was really shitty. A lot of places offered western food but most of the time it was awful. Pizza and sushi was a common combination. If you wanted some decent food you better pick a traditional Ukrainian restaurant with a buffet. The cheapest one in Kiev is "Puzata Hata". Sounds like Pizza Hut but it's not. It's food chain with different locations all over Ukraine. They have great Borscht, a traditional Ukrainian soup with sour cream and meat was definitely a winner. The other dishes consisted of the usual salad, meat and dumplings. Loads of dough. It wasn't that bad but definitely not our favorite kitchen.
For drinks you had choice out of the many bars in Kiev. Most of them have a specific theme and also really bad names like 'N1 pub' or just 'Pub'. Most of the time there was awful Ukrainian pop music playing on a big LCD tv (in the bars: tv's everywhere) but the beer was ok. In a lot of bars you could even get Belgian beers. No cara though unfortunately. There were some cool bars though, but you really had to know where to find them. Good Luck and Nazdrovje!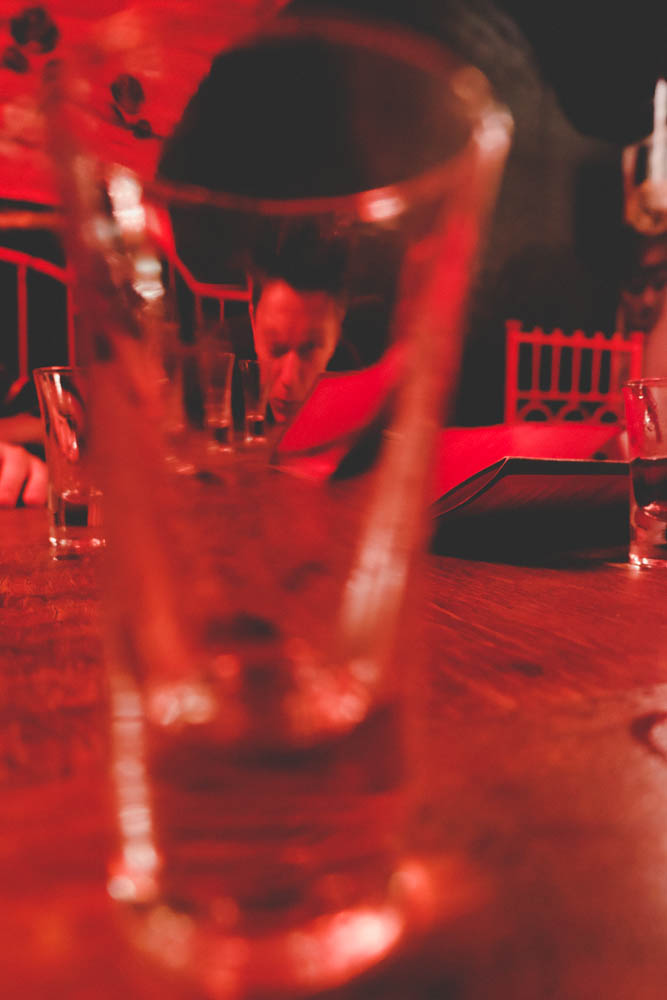 One of the few pictures I found of us in a bar.
Congratulations if you made it all the way to here reading this shit. There's a whole lot more to do in Kiev and Lviv! For a mini shitty guide of shitty things you should do in Ukraine click here or scroll down!