During World War II the collaborateurs came here to drink their beers and till this day it's still one of the most hated bars in Antwerpen. The interior hasn't changed much ever since, except for the N-VA 'I hate everything foreign'-propaganda and the people range from average joes to bald neo nazis with white pride T-shirts.
If you enter this place you'll probably be the only outsider so your best option is to order a beer and drink away your discomfort. At first the locals will act a bit suspicious towards a new face and will calm their voices down but a couple beers later they will loosen up and you can expect some 'Zwaanst na ni hé's or 'zaaandvreters' scenes like the famous 'Seefhoek' youtube hit. For example I met a woman at the bar who came all the way from France to this café 'cause she was born in Belgium – or better Flanders – and this was her yearly visit to this unique place, the only place where you can still be proud to be on a picture with the famous Marie Le Pen. She even had a 'Vlaamse Leeuw' tattoo, which looked more like some fake chipsbag tattoo sticker, but this didn't make her less proud ofcourse. Yup, the crowd can be quite hardcore in here!
But at the other hand there was Theo, a quiet man sipping his coffee and reading the newspaper in small corner of the bar. Theo's in his 70's and retired. He is already the eight owner of this bar and is keeping the bar open in his spare time. Not for profits, he told me, 'De Leeuw Van Vlaanderen' is a VZW in honor of Herman Van Den Reeck, a Flemish martyr who was shot by the police during Flemish protests in 1909. You can see his painting against the wall, next to the other Flemish heros. 'Although this café's a VZW it's almost impossible to keep the bussiness running. Who is going to take over this bar for instance? It's not easy to find the right candidate these days. Things have changed here in Antwerpen…' he sighs.
If you still want to visit the shittiest bar of Antwerpen, this is the time because maybe in a couple years it's too late or maybe that would be a good thing?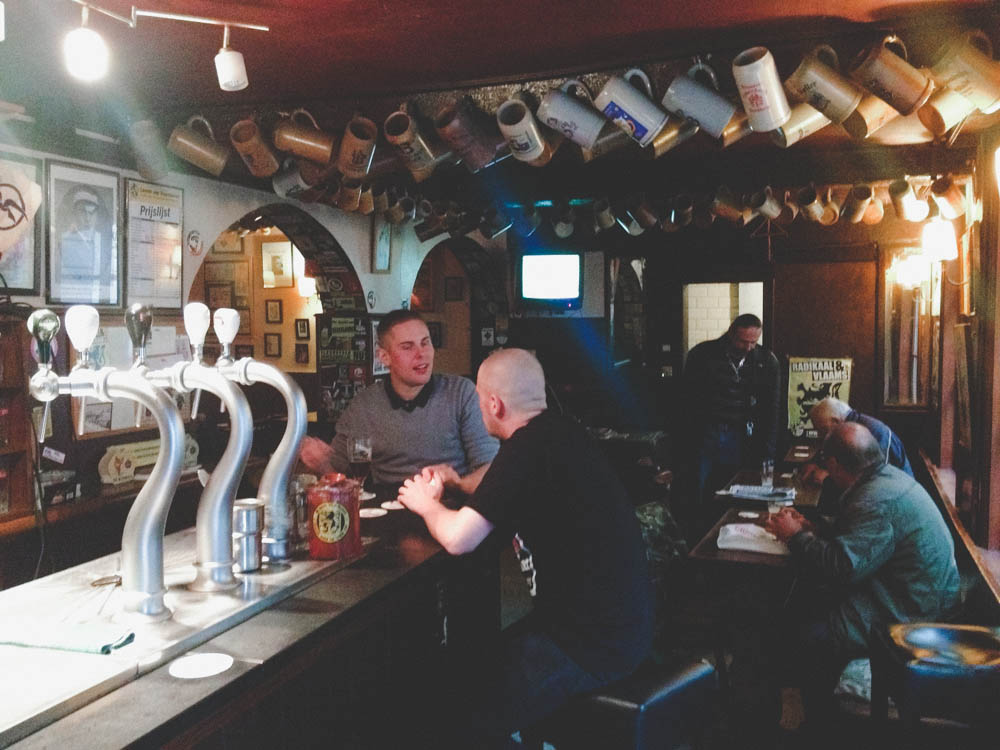 1 Jezuïetenrui
2000 Antwerpen